Let us be your Nationwide Preferred Vendor
Why call around to multiple servers?
We are your Local and Nationwide go to service.
EVICTIONS are ALWAYS Same Day/Next Day at no extra charge
"Integrity is what we say, what we do and what we say we do." – Don Galer
We want to be
YOUR FIRST CHOICE

when choosing a process service
Accel Process Service, Inc. has offices located in Seminole, Largo, St Petersburg, Clearwater and Tallahassee Florida.
We are not just a Pinellas County Process Service. We are a professional nationwide process service company with process servers in every county, city, and every state in the U.S with also Hawaii and Canada service which allows us to provide fast, legally effective service of process with flat fees and no hidden costs.
Email your documents to Serve@AccelProcessService.com
Specify: Routine Service, Rush, Same Day Rush
You will get a "Received" reply by the end of day
Pay Service Fees using our Law Pay link
Link located on our Reply email or PAY NOW
Accel will immediately process your documents and send them out for service.
Accel will email your Return of Service upon completion
ROUTINE

SERVICE
Service completed within 1-7 day average
RUSH

SERVICE
Service completed within 1-2 day average
Documents are placed ahead of all services and made our priority
WE ALSO SPECIALIZE IN HIGH VOLUME / MASS QUANTITY CASES (ie. Pipeline Easement Rights, Class Action)
Tenant Eviction
Summons
Subpoenas
Small Claims
Collections
Family Law
Foreclosures
Registered Agent
Civil
Writs, Orders & Notices
Estate
Claims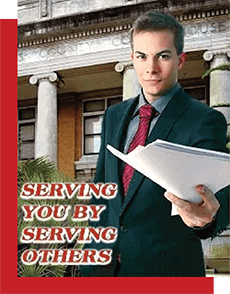 The mission of Accel Process Service, Inc. is to provide exceptional process server services to the legal community by attaining their confidence and trust by understanding the importance of serving their documents in a timely manner.
Your documents get processed and
in the server's hands the same day we receive them.
Providing our servers catch the subject home or in offices on the 1st or 2nd attempt we can usually get the service completed within 1-3 days on average for routine service and your affidavits will follow thereafter.



Note: This is just something

we

do to stand out from the rest but please allow 7 days before inquiring about status unless you order rush services.



Your office can also be set up for automatic status reports so regular repeat clients will always know the status of their documents.

WE KNOW THE LAWS! WE ARE ACCURATE AND FAST!
Our servers are educated on the statutes pertaining to legal service of process and also take continued education courses annually to stay updated on the newest changes in our legislation.
Licensed · Bonded · Insured · Prompt · Professional
We file the Return of Service for all Florida Pro se litigants at no charge
Our Average Fees are between $50 and $150. Please call us for an exact quote, (727) 492-0651
Volume/Bulk Discounts Available to All Clients
Convenient, In-House Notary Services
WHY CHOOSE ACCEL PROCESS SERVICE?
Same-Day/Next Day Service
No Cost Skip Tracing for Repeat Clients
(If the address you provided is outdated)
Emailed Status Notifications
Volume Discounts Available
Automatic No-Cost Filing
(Of returns for Pro se litigants )
No Limit/Immediate Attempts
(Unlimited Attempts within reason, we will consult with you if there are any issues)